May 3rd, 2009 — 6:21pm

The "Grote Meid" (Good Girl), is designed by Gerard Dijkstra and is a classic looking schooner, steel hull built in 1989 by shipyard Engelaer, Beneden-Leeuwen the Netherlands, in commission of Jan Bakker Shipyard Enkhuizen.
She has a very modern underwater hull shape; a centreboard reduces the draft from 3,85 meter to 1.90 meter to enable her to cruise shallow waters and avoid crowded anchorages. She sailed her several times over the Atlantic Ocean and cruised the whole of the Mediterranean, Norway, Scotland, Faroe Islands, Ireland and in recent years the Caribbean. Click for pictures of the crossing made in 2004.
She is a very comfortable and fast cruiser. Regardless of the weather, the comfortable deckhouse offers protection in any conditions.
In heavy weather she behaves like a dream without getting "green water" on deck.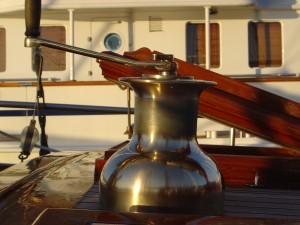 During longer passages the professional autopilot controls her 99% of the time, which makes short distance sailing easy and comfortable.
There are four cabins onboard, a master cabin, two roomy single cabins and a double guest cabin in the back. See the interior tab at the top of this page.
In the last ten years several improvements and refits to the interior and exterior are performed. In 2008 a total exterior overhaul of the "Grote Meid" was started.
The total teak cap rail was removed for grit blasting and epoxy treatment. The hull was grit blasted and built up with AWL grip epoxy primers. To reduce the interior temperature the colour changed from dark blue to Oyster White.
Several repairs to the teak deck and doghouse roof were performed and the total teak superstructure masts and booms sanded down to bare wood and built up with a 13-layer AWL grip Varnish system. This part of the overhaul will be finished in June 2009.
To make de Grote Meid pristine, the interior needs a refit (upholstery and carpeting) as well as several small improvements.
To bring her up to state of the art requirements a technical overhaul is preferable. For example the main engine is 23 years old and gives only 80% of the original 115 HP, which is the absolute minimum for a boat of 60 tons without a bowthruster.
If you want to take part in this beautiful ship don't hesitate to mail the skipper of the Grote Meid .